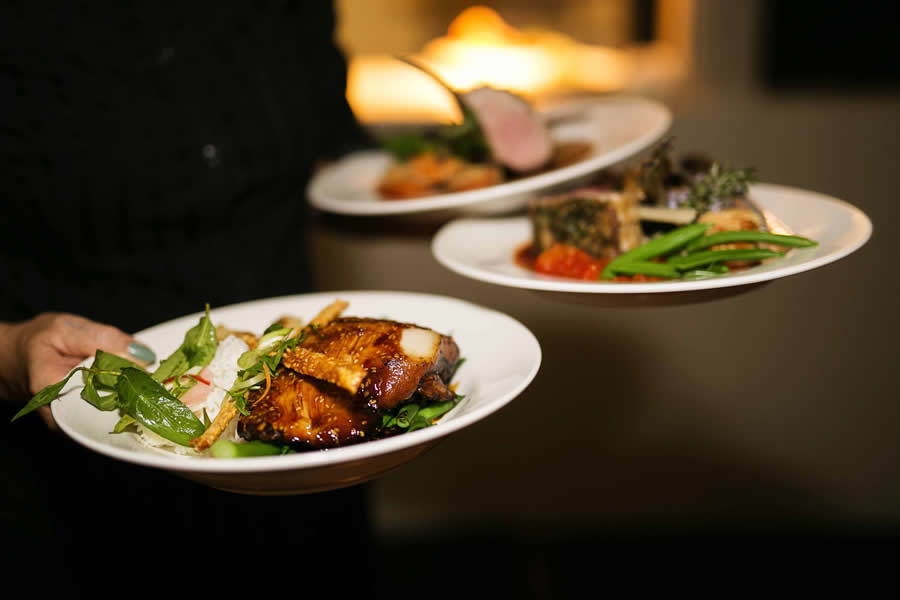 Headland Golf Club hosts weddings, corporate events and social functions throughout the year. Our wedding parties are often locals from the Sunshine Coast area, but just as regularly we host wedding couples from Brisbane, Melbourne or Sydney.
Naturally, our guests from New South Wales or Victoria are drawn to the Sunshine Coast in the winter months for our blue skies and tropical climate.
Corporate events tend to focus on local businesses from the Sunshine Coast or local Queensland area, while our social functions attract sporting and social clubs or groups looking for a special venue.
Whatever type of event you're hosting, we offer three main catering choices, with each of them offering different menus to suit your style and budget.
Before organising your event and choosing a menu, we recommend you decide what type of catering you'd like. We can tailor catering to suit your preferences but these are the three main choices:
1. Canapés for stand-up parties
Canapé and cocktail events are ideal if you're entertaining more than 160 guests, or if you'd like to host a more informal event. The beauty of this function format is that it allows guests to mingle freely while our professional wait staff circulate with trays of beautifully presented, bite-sized dishes.
We can create a canapé only option for groups of any size including large parties with up to 250 guests.
When you choose our stand-up canapés catering option there are several different menus to choose from and you can select the canapés you prefer.
2. Canapés as the starter course followed by a sit-down meal
This option allows guests to mingle and enjoy the views, while still allowing time for a more formal sit-down meal later which will include a main course and dessert.
This option works well for weddings as it allows guests to socialise while professional photographs are being taken. It's also perfect for any event where guests may arrive at slightly different times as it gives everyone time to get to the venue before the formal sit-down meal.
This option can be incorporated into any of our menus.
3. Three-course sit-down menu
For a more formal event, you may prefer a three-course sit-down menu with the option of canapés beforehand if you wish.
Our three-course sit-down menu is a more traditional option which works well in the evening, when guests may be tired after a long day on their feet, or for events where speeches or presentations will be made during the meal.
It also allows guests time to enjoy a full three-course meal before spending the rest of the event socialising or dancing.
Find out more about catering options for weddings, functions and events
Our wedding planner and restaurant managers will be happy to talk you through the catering options to help you decide what would work best for your special event.
Contact us now to find out more about our wedding packages or functions packages. Once we've got your contact details, we'll send you information on the different packaging options, including full menus and all the details you need to plan a memorable event at Headland Golf Club.
Alternatively, phone us now on (07) 5444 5800 or email functions@headlandgolfclub.com.au.