Future Fund
What is the Headland Golf Club Future Fund?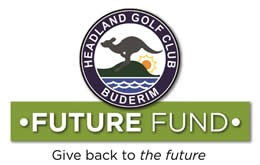 The Future Fund was established to receive donations and bequests from members and is used to undertake large scale, intergenerational projects. The fund is professionally managed and invested so it grows over time. It has proven to be a highly effective way of accumulating additional funds for large, durable projects that would otherwise be financially unattainable.
Why have a Future Fund?
For many of our members, Headland Golf Club has been an important and valued part of their lives. It has provided them with enjoyment and enrichment, often for several decades. These members have spent countless hours enjoying the physical activity, challenge, scenery and social life that Headland Golf Course provides.
These are just a few of the benefits our members enjoy. Membership provides a sense of belonging and many members highly value the deep joy club membership has brought them.
The club's success to date has largely been due to the generous sponsorship of events combined with passion and voluntary work from key members. Many of our members have generously donated countless hours to making the club what it is today.
The Future Fund provides another option for those who want to give back to the club. It creates the opportunity to benefit from the joy of giving and satisfies our community's growing focus on philanthropy.
The Future Fund provides members with a mechanism to donate funds, through a bequest or living donation, and improve the club for future generations.
Making a donation
There are several ways to donate to Headland Golf Club's Future Fund and donations of any amount are welcome.
Living donations – Some members like the idea of making a donation while they are alive so they can witness the impact of their generosity as the fund grows. Such donations can be large or small.
Bequest – Many members like the concept of leaving a permanent legacy by making a provision in their will for the Future Fund.
Anonymous – Donors can choose to remain anonymous.
Recognition – Many members enjoy receiving recognition for their donations according to their wishes.
General donations – Donors are encouraged to offer 'no strings' donations which can be used for the next project scheduled.
Specific donations – However, if a donor has a clear wish for their donation to go towards a particular project, such as the redevelopment of the clubhouse, or a course update, that wish can be respected.
Memorial donations – Donors can make a gift donation in memory of a friend or family member. A memorial story and photo can then be added to the Gifts in Memory (LINK) section our website.
Tax deductible – Donations to the Future Fund are tax deductible if made via the Australian Sports Foundation. Click here now to make a donation through the Australian Sports Foundation website.
Who oversees the Future Fund?
The Future Fund is overseen by the Club's Board and promoted by a Future Fund Committee.
Members of the Future Fund Committee work to build support for the Future Fund. The Committee is chaired by Club Patron Simon Whittle.
How does the Future Fund work?
In addition to donations from members past and present, the Headland Golf Club board is committed to making regular contributions to the fund to expedite its growth. Most notably:
Future Fund donations are invested carefully and safeguarded for use on intergenerational projects.
The Future Fund is accounted for separately and invested conservatively for long-term growth.
To meet its intergenerational vision, any Future Fund project would call for an investment of over one million dollars for clubhouse projects, and over half a million dollars for course projects.
Money in the fund will be accumulated until a critical mass of around $2 million is reached or until 2026, whichever is the earliest.
When sufficient funds are available, the Headland Golf Club Board will propose the projects on which the Future Fund is invested.
All projects must be approved by a majority of members at an Annual General Meeting or an Extraordinary General Meeting, as per the Articles of Association with respect to large capital projects.
Securing a great future for our Club
The Future Fund offers the perfect way to undertake visionary, large scale, high-cost projects without impacting the club's normal operation.
Visionary thinking in the past has ensured the club's success and the Future Fund will continue to build on that success. This visionary thinking will maintain our reputation as leaders in our field and help secure the future of the club.
Find out more
If you're interested in the Future Fund concept or would like more information, please talk to the General Manager or any member of the Future Fund Committee or download our Future Fund brochure now.
Future Fund Committee Members
Simon Whittle: Club Patron and Sub-Committee Chairman
John Kingston
Sergio Nogarotto
Donate now
Donations can be made online through the Australian Sports Foundation.  For other options please download our Future Fund Donations PDF).