Junior Program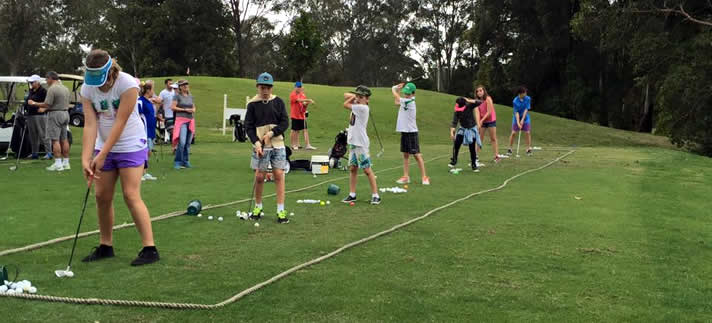 Here at Headland Golf Club we are committed to the growth of junior golf on the Sunshine Coast. We offer an extensive Junior Program for children between the ages of 7 and 17.
Clinics run for 6 weeks during each school term and there are also additional holiday clinics/camps run during the school holidays. Headland Golf Club's Junior Coordinator Matt Douglas (2014 P.G.A Trainee of the Year) is passionate about the growth of junior golf on the Sunshine Coast, in Queensland and around Australia. Matt's main aim is to provide the juniors with an avenue to learn golf, social interaction with other children and a pathway to playing competition golf. Most importantly Matt wants the children to have FUN.
There are three types of clinics offered during the school term; Beginner, Intermediate and Advanced; and each clinic is designed to suit the skill levels of the players in the clinic. The clinics offered during the school holidays are open to every child regardless of skill level.
Pricing for the Junior Program is as follows:
Term Clinics – $100 for the six weeks (1 hour clinics) Pro rata rate of $20 per week
Holiday Clinics – $50 per day for club members (3 hours each day) $90 for two days if paid prior to start day
(prices subject to change)
The program followed is outlined below which is subject to change at the Junior Coordinator's discretion.
Beginner
Week 1 – Long game fundamentals. Grip, set up, alignment and swing
Week 2 – Chipping and pitching fundamentals
Week 3 – On course play. Put into practice what we've learnt so far
Week 4 – Long game and short game skills tests/games
Week 5 – Putting fundamentals. Set up, alignment and distance control
Week 6 – On course play. Etiquette and general rules
Intermediate/Advanced
Week 1 – Long game fundamentals. Grip, set up, alignment, aim. Hitting to specific targets
Week 2 – Pitching and chipping fundamentals. Hitting to targets, distance control and flight control
Week 3 – On course play. Put into practice what we've learnt
Week 4 – Long game and short game skills tests
Week 5 – Putting fundamentals. Drills to use when practicing to improve all areas of putting
Week 6 – On course play
Etiquette, rules and specific game play tests. If you have any further inquiries please do not hesitate to contact the Headland Golf Club Proshop or Matt Douglas on: Mobile: 0415 841 747 Proshop: 5444 5944 Email: proshop@headlandgolfclub.com.au