Starting Women IN Golf (SWING)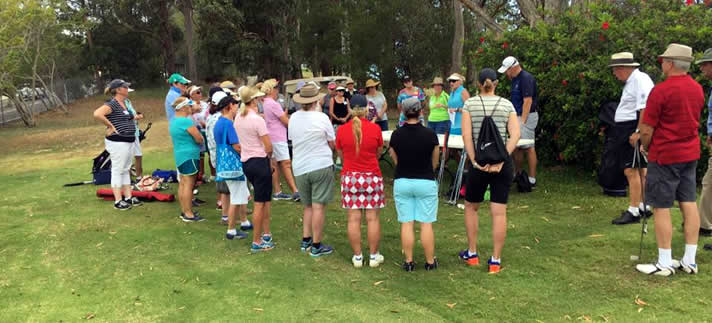 Women wanting to start golf will be surprised how comfortable they feel on the golf course with this Starting Women IN Golf (SWING) program. Participants will gain an effortless transition from beginner to regular social or competition player while meeting many new friends.
Headland Golf Club is offering this golf program to new female golfers, and those who are returning to golf.
The SWING program's aims are:
To create a supportive pathway that will take a beginning golfer to become a confident player, knowing golf's skills, rules, etiquette and competition scoring systems
To make new members feel supported, encouraged and at ease and be given as much help as required in order for them become confident as they settle into club life.
A summary of the SWING program is:
Every Monday  morning starting at 7am, a group of experienced volunteers take women who are starting golf, for up to 9-holes – $15 for non-members. Participants will be given advice on course etiquette, course management, scoring systems and golf rules. This also includes a chat over coffee following the 9-holes of golf.
Several Clinics are arranged throughout the year with our Club Professional, Adam Norlander. These are organised according to the needs and interests of the participants. There is a small fee for these sessions.
An Information Session is held once a month to answer questions and discuss rules, points of golf etiquette, scoring systems etc.
Women can join in the program at any stage during the year. The program lasts until participants are ready to gain a handicap if desired. The player will then be able to graduate to full membership or play socially with confidence.
If SWING participants choose to become members at Headland Golf Club, they will receive a 30% discount off their joining fees.
Those who might be interested contact Laurel Opray for more information.
0439500124 or email laurelopray@gmail.com